Grilled Pesto Mozzarella Sandwich
April 27th, 2014
Go vegetarian for lunch or dinner. This quick, easy grilled pesto mozzarella sandwich is delicious and low in calories! Great for a quick meal on a weeknight. With several fresh ingredients, this sandwich will leave you feeling satisfied.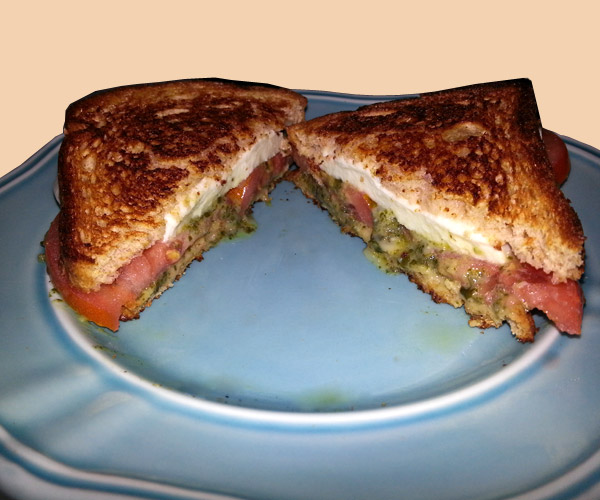 Grilled Pesto Mozzarella Sandwich
Calories: 360 calories per sandwich
Ingredients:
1 tbsp Pesto (homemade recipe below) or buy low fat packaged pesto
3 thin slices part skim mozzarella cheese
3 slices tomato
2 slices light wheat bread
Pam spray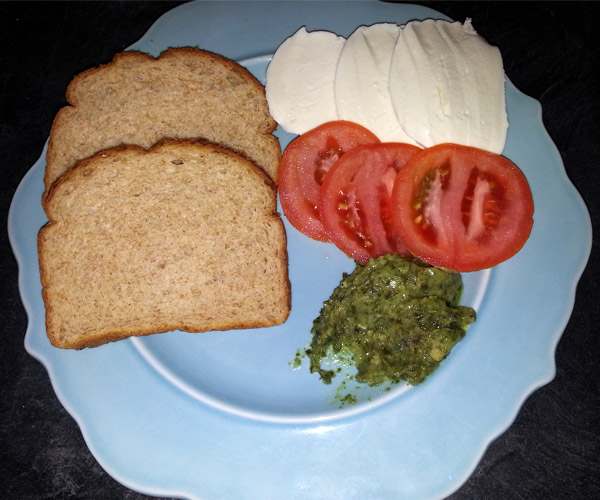 For homemade Pesto sauce:
In a food processor blend together 1/4 c olive oil, 2 c packed fresh basil leaves, 1 clove garlic, 1 tbsp grated Parmesan cheese, and 1 tbsp pine nuts. Blend until smooth. Store in refrigerator.
To make the sandwich:
In a grill pan, spray a generous amount of Pam olive oil spray. Place both slides of bread on the pan. Place cheese on one slice of bread and tomato and pesto spread on the other. Cook on low to medium heat for about five minutes or until cheese is warm. combined both slices of bread and ingredients to form a sandwhich. Remove from heat. Serve warm and enjoy!
Additional fresh ingredients to add to the sandwich: red onion, avocado, sliced radish, or any veggies you prefer.