Fresh and Easy Shrimp Tacos
September 8th, 2014
I'm back and this time I am cooking in my own kitchen! My fiance, Tim, and I bought our first home and have spent the last few months setting up our new place. While the weather has been warm, I decided to perfect a favorite dish of mine, shrimp tacos. Using fresh ingredients and delicious spices, these healthy tacos are sure to please!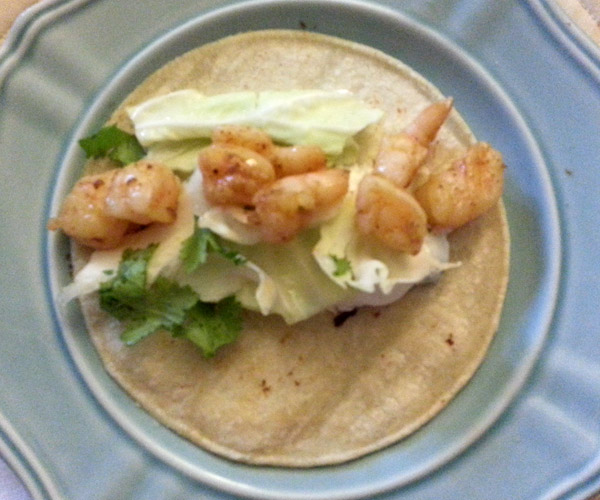 Shrimp Tacos
Serves approx. 3
380 calories for 2 tacos
Ingredients:
1 lb of shrimp (fresh or frozen)- peeled and deveined
6 oz fat free plain Greek yogurt
¼ cup chopped fresh cilantro
1 lime
1 tsp cayenne pepper
1 tsp chili powder
½ a head of shredded cabbage or iceburg lettuce (about 4 cups)
6 medium corn tortillas
4 tsp extra virgin olive oil
Salt and pepper to taste
Instructions
In a small bowl, mix yogurt, cayenne pepper, 1 tsp juice juice from lime, half the cilantro and set aside.
Cut shrimp in half or thirds to make smaller pieces. Heat two teaspoons of olive oil in a medium non-stick skillet. Sauté shrimp and season with salt, pepper, chili powder, over medium heat until shrimp are cooked. Shrimp will turn pink when fully cooked, only takes a couple of minutes.
Spray medium skillet with cooking spray. Heat tortillas over low heat until warm and browning (about 1 minute on each side). Set aside on a plate.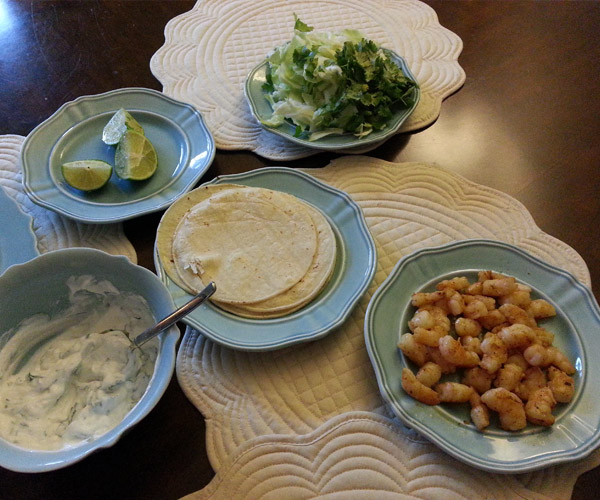 To build tacos, place a scoop of shredded cabbage (or lettuce) on the warmed tortillas. Top with shrimp, yogurt mixture, and extra cilantro. Squeeze fresh lime juice on top of the completed taco.
Tasty additions- chopped mango, pineapple, avocado, tomato, and/or red onion
Enjoy this fun, healthy meal with fresh ingredients!