How much fat and sugar are in your snacks?
October 30th, 2013
Last weekend, I presented a healthy eating demonstration at Calvary Baptist Church of North Jersey at Garfield's Healthy Ministry kickoff.

This event was led by Kirk Johnson. Many men, women, and children joined the ministry team to learn about exercise and healthy eating. Beforehand, I spoke with Kirk to find out what type of nutrition information the community was looking for. Turns out, the attendees wanted to know about good nutrition for disease prevention.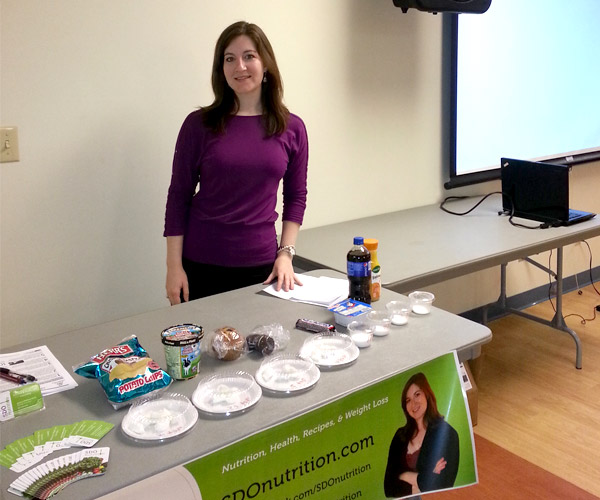 It was a fun day of motivation and learning. We started with Zumba, which I love! A mix of cardio and dance got us energized. For my presentation on healthy eating, I decided to use a very effective food demonstration on the amount of added fat and sugar in common snacks.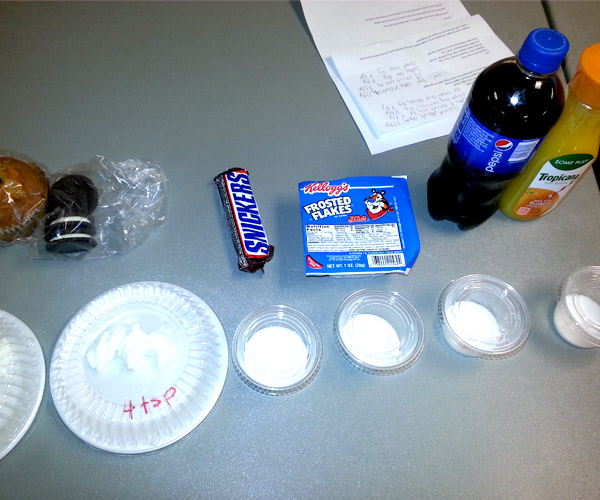 I had the audience guess how many teaspoons of fat and sugar were in common processed foods. It was a real eye-opener for the audience to see just how much fat and sugar we eat everyday without realizing it!
Here is a recap of what I presented:
Sugar Demo:
Candy Bar – 30g sugar (7 tsp)
Breakfast Cereal – 16g sugar (4 tsp)
Orange Juice – 34g sugar (8.5 tsp)
Soda – 69g sugar (17 tsp!!)
Fat Demo:
4 Packaged Cookies 14g fat (3.5 tsp)
Chips 15g fat (4 tsp)
Ice Cream 28g fat (7 tsp)
Blueberry Muffin 20g fat (5 tsp)
The take-home message here is try to eat whole foods and limit processed foods because of the high amounts of added fat and sugar. Choose fresh fruit instead of juice and limit high fat desserts and snacks. For suggestions, check out my post on healthy desserts: 9 Tasty Low Calorie Desserts for Healthy Dieting.
We followed the nutrition presentation with a healthy lunch provided by the culinary team at the church. I ate a delicious tuna and turkey wrap with grapes and Sun Chips on the side. I hadn't had Sun Chips since I was a teenager. I had forgotten how good they tasted!
I had a great time meeting everyone and I look forward to the next nutrition presentation with the ministry.