Simply Delicious Shrimp and Basil Pasta
July 21st, 2015
I started growing some herbs on the porch in my home. The basil plant has done particularly well this summer. I have been finding new ways to incorporate fresh herbs in the dishes I make. I love shrimp and mix it into pasta, rice, and quinoa all the time. Here is a tasty shrimp and basil pasta dish, perfect for a summer night.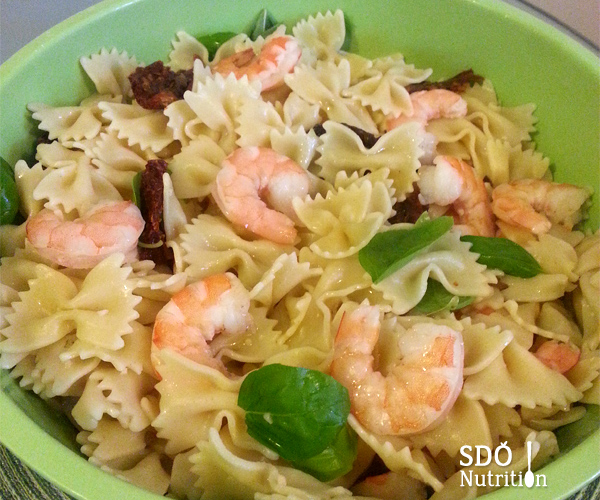 Shrimp and Basil Pasta
Calories for 2 cups: 280
Ingredients:
8oz (about 3 cups) bowtie pasta (whole-wheat taste great too!)
1 diced tomato (or 1/2 c sun dried tomatoes)
1 tablespoon extra-virgin olive oil
2 cloves garlic, minced
juice from 1 medium lemon
1/4 teaspoon freshly ground pepper, or more to taste
Pinch of cayenne pepper
1 pound medium raw shrimp peeled and deveined
1/2 cup fresh basil leaves
1 tablespoon Parmesan cheese
Instructions:
Cook pasta in boiling water. Strain water when pasta is soft and tender, set aside.
In a skillet add tomatoes, garlic, lemon juice, olive oil, and cayenne pepper on medium heat. Add raw shrimp and cook until they all turn pink (about 5 minutes).
Combined shrimp mixture and pasta in a large serving bowl. Add fresh basil and Parmesan cheese on top of pasta and mix in. Add black pepper to taste.
Serve warm and enjoy!
Let me know what your favorite summer meal is in the comments below!