Easy Baked Chicken with Spring Mushrooms and Peppers
April 2nd, 2014
Spring is finally here and not a moment too soon! Mushrooms are back in season, which reminds me of an easy recipe I like to make when I do not have a lot of time in the evening.  Perfect for the work week. This recipe is very versatile since you can replace the veggies with any others you like, or whichever are in season. You can also add any additional spices you are in the mood for.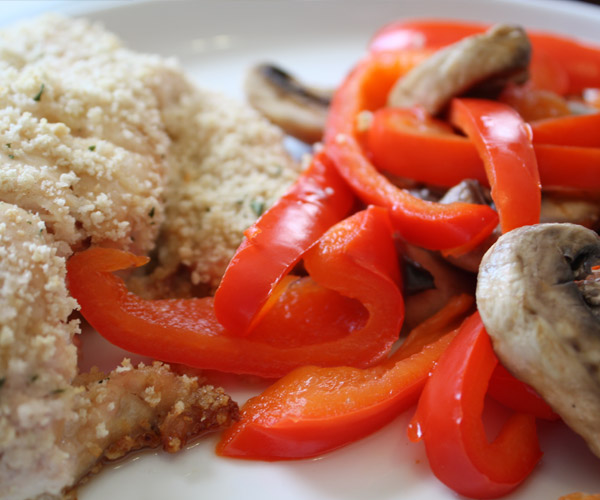 Easy Baked Chicken with Spring Mushrooms and Peppers
Yields 4 servings
Calories: 280 calories per serving
4 skinless, boneless chicken breasts
4 egg whites
½ c salt free, seasoned Panko bread crumbs
1 red pepper
1 green pepper
about 8 mushrooms
1 tbsp olive oil
1 clove garlic
2 tsp fresh lemon juice
Preheat oven to 380 degress
Place bread crumbs on a large plate. Pour egg whites in a bowl. Rinse raw chicken breast and coat with egg whites then place in bread crumbs and coat generously.
Spray aluminum foil with Pam spray and place breaded chicken on a baking pan. Cook in oven for about 15 minutes or until chicken is fully cooked (no longer pink in the center).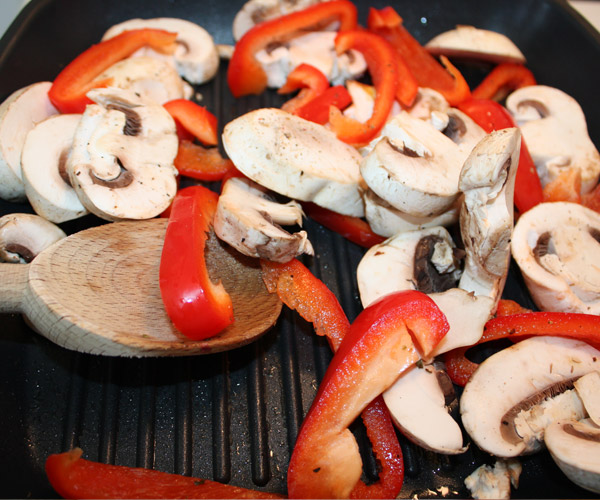 Rinse and chop mushrooms and peppers to desired size. I prefer vegetables to be in larger pieces.  Coat a large grill pan with Pam spray. Add chopped vegetables, olive oil, diced clove of garlic, and lemon juice. Saute in pan on medium to low heat until veggies are cooked but still tender.
Combined  each chicken breast with veggies on a plate and serve warm.
Enjoy! For other dinner ideas, check out my previous blog posts: