How a Great Turkey Sandwich Saved My Diet and My Savings Account
September 10th, 2013
How can a great turkey sandwich save my diet and my savings account? As a Registered Dietitian, people often ask me "what do you eat?".

I have many answers for this question since I love to eat healthy foods. The simple truth is, there is one particular meal I eat almost daily. I'll let you in on one of my secret meals, my beloved turkey sandwich!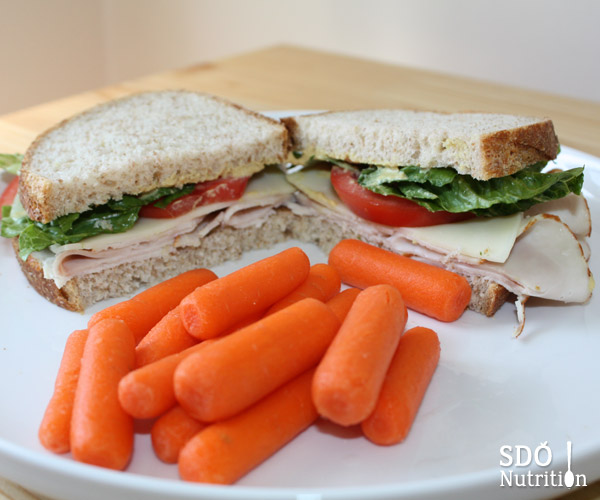 Eating a healthy meal, daily, can be tricky but consistency is key for a successful dieting plan. Many people have a bad habit of buying lunch at work, and these are often filled with preservatives and too many calories. How many times have you opted for an unhealthy lunch at work because you didn't prepare a meal ahead of time?
What makes my delicious turkey sandwich special? Well, it's not the turkey itself, but the ingredients I add to spice it up!
Great Turkey Sandwich
Calories: 360
2 slices whole wheat bread
2-3 slices low-sodium turkey breast
1 slice avocado
1 slice tomato
1 thin slice provolone cheese
Dijon mustard (apply as needed!)
The story behind my great turkey sandwich
I created this sandwich while I was trying to find something healthy to eat one Saturday afternoon. I rummaged through the fridge and came up with a combination that I could eat everyday. I enjoyed it so much, I started bringing my version of a turkey sandwich to work daily. This was my attempt to eat fewer calories at lunch and it was effective. Not only was I consuming fewer calories, but my savings increased because of the inexpensive ingredients!
According to a survey by firm Accounting Principals, and as stated on Business News Daily, "When it comes to lunch, two-thirds of those surveyed said they buy it instead of bring their own, spending an average of nearly $2,000 a year on the midday meal."
New to homemade sandwiches? Try creating your own version of a great turkey sandwich.  Add healthy ingredients for variety, and to boost delicious taste and flavors you enjoy! Take a look at my post, Benefits of Adding Variety to Your Exercise Routine to see how variety can improve your overall health.
Give this great turkey sandwich a try and let me know what you think in the comment section below.