Healthy Grilling Seafood Recipes
August 6th, 2015
The summer is the perfect time to grill! My husband Tim and I recently bought a new grill for our first home. We have been breaking it in this week with some of my favorite family recipes, I enjoyed growing up. Here are a few healthy grilling ideas for the family. If you don't have access to a barbeque, you can use a grill pan on the stove top instead.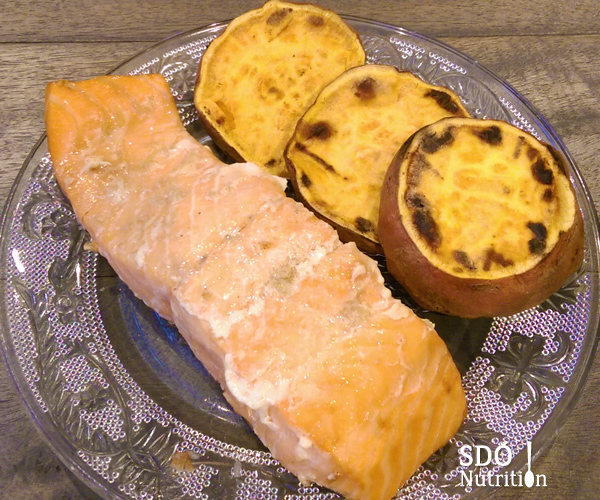 Grilled Salmon Teriyaki with Sweet Potato
Calories: 200
Ingredients:
2 tsp grated fresh ginger
1 tsp brown sugar
Juice from 1 orange or 2 tbsp OJ
1 tbsp low sodium soy sauce
dash of black pepper
8 oz Salmon
2 sweet potatoes
Instructions:
Combined first 5 ingredients together in a glass baking dish. Add raw salmon and let marinade overnight. Take salmon out and put on foil. Place foil with salmon on grill at 400 degrees. Cook until fish is golden pink color. Slice sweet potatoes and place directly on grill. Cook until able to easily push fork through.
Side salad: Mix Boston lettuce, cucumbers, cherry tomatoes, and red pepper together.
Homemade dressing: 1 tbsp balsamic vinegar, 1 tsp olive oil, fresh basil, dash of pepper, craisins
Serves 4
---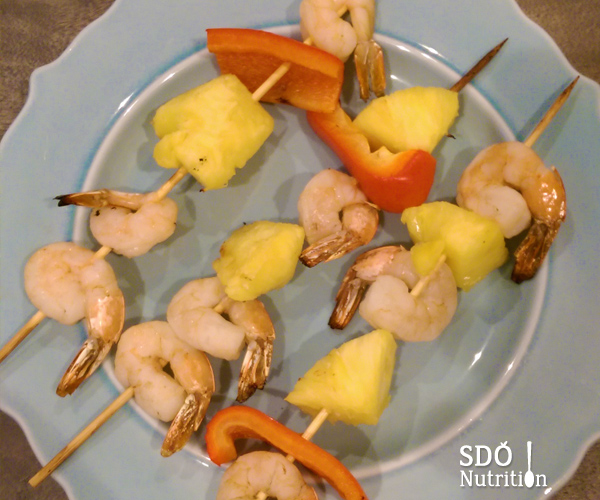 Grilled Shrimp and Pineapple Kebabs
Calories: 140 for 3 Kebabs
Ingredients:
About 25 medium raw, peeled, deveined shrimp
3 cups large cubed pineapple
2 red pepper
1 tbsp lime juice
cayenne pepper to taste
Instructions:
Place about 4 shrimp, 3 pineapple cubes, and 2 slices of pepper on each skewer. Heat grill and place skewers directly on rack. Once shrimp turns pink, and grill marks form, take off grill. Once cooked, squeeze lime juice directly on all skewers. Add cayenne pepper to taste.
Serves 4