Delicious Fig and Goat Cheese Flatbread Pizza
October 13th, 2014
This flatbread pizza is my new favorite recipe to make (and eat!). The warm goat cheese and the fig with balsamic are a wonderful flavor combination. My fiance and I were out to dinner at the Norwood Club in NYC a few months ago and ordered a similar item off their appetizer menu. I am used to having fig, arugula, and goat cheese in a salad, so when I discovered how great they taste in pizza form, I could not wait to eat it again! I found all these complicated recipes online with a million ingredients and steps. I decided to keep it simple and come up with my own. The result was delicious!!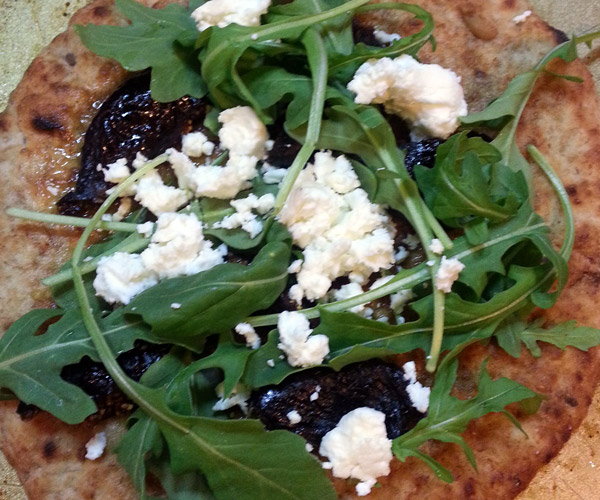 Fig, Goat Cheese, and Arugula Flatbread
Calories for 1 flatbread: 390
Ingredients
For the dressing:
1/2 tsp honey
2 tsp balsamic vinegar
1 tsp extra virgin olive oil
Ground pepper to taste
For the Pizza toppings:
Multigrain Flatbread- I used Kontos brand from Kings. A whole wheat pita works too.
1 fresh fig (or two dried figs)
1/2 c arugula
2 oz goat cheese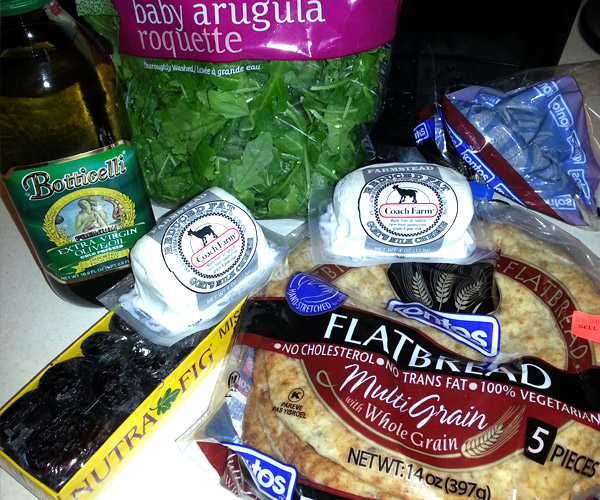 Instructions
Pre-heat oven to 350 degrees.
In a small bowl (I used a custard cup) mix honey, balsamic vinegar, EVOO, and pepper. Next place the flatbread on a baking sheet. Pour the dressing on top, covering the entire surface of the flatbread. Cut the fig into thin slices and arrange evenly on the flatbread, again covering as much of the surface as possible. Next add arugula over the sliced fig. Crumble about 2 oz of goat cheese over the arugula. Bake in oven for about 10 minutes or until warm. The goat cheese will soften but does not melt.
Serve warm and Enjoy!
How easy and simple is that?! This flatbread makes a great appetizer at a party. Or a fast dinner on a busy weeknight.
What other types of flatbread recipes do you enjoy?